Committed to lifelong learning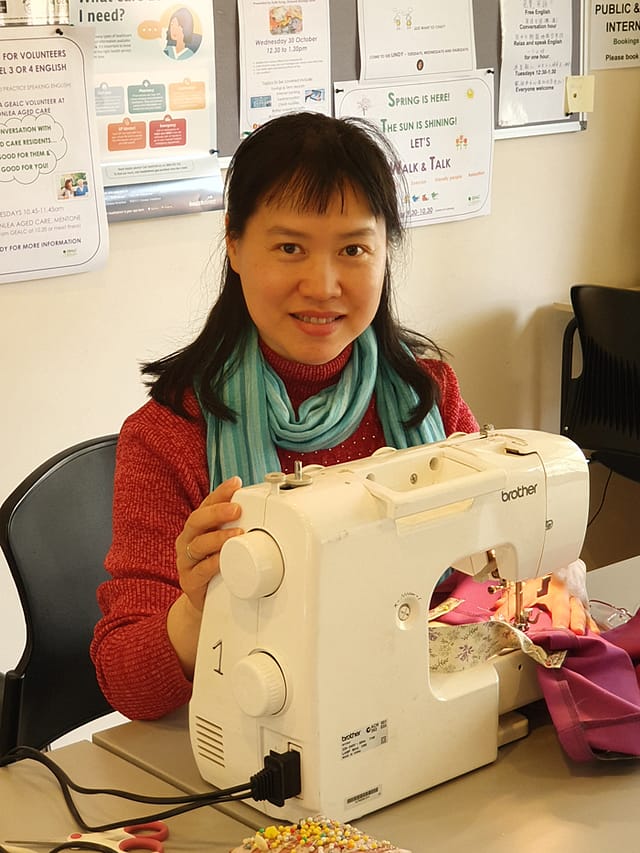 Jiamei Li, from China, initially came to Glen Eira Adult Learning Centre (GEALC) in 2016 to learn English. In 2017, she completed GEALC's Certificate 3 in EAL. She then enrolled in our Improve Your Writing program in 2018 to further develop her language skills. In 2019 she enrolled in a bookkeeping course and then continued on to our Mind Your Own Business program.
During 2020 and 2021 (through the Pandemic) she enrolled in our Advanced EAL 4 class (most of which was delivered online). She has also participated in our Job Ready course and is currently studying our Health Services program. Jiamei has also volunteered in may GEALC activities including our Sewing Conversation class. Throughout her time at GEALC, Jiamei has gained the following skills:
increased verbal communication skills
increased reading and writing skills
improved organisational skills especially from her volunteer work at GEALC
increased confidence to further herself
pathway planning and setting personal goals.
Jiamei is an outstanding learner because she is a hard-working, dedicated and kind student who comes to all classes and completes all her work. She is always looking for new ways to improve her English and is happy to help her classmates. She has an incredibly positive attitude that other students gravitate to. Jiamei is always prepared to take on challenge in her learning and has an inquiring mind.
Jiamei is a naturally caring person, always showing a strong desire to help others. Not only is Jiamei studying at GEALC, she also assists GEALC in a voluntary capacity at our annual community events and in our sewing conversation class. This class has lower level English speakers and people with a disability. Jiamei patiently works with everyone to help them improve their sewing skills. A full-time mother of two, she still manages to find the time to volunteer at her children's primary school by running the second-hand uniform shop.
Jiamei is a wonderful example of how a student through learning and volunteering can increase their interpersonal skills to participate in other activities. Jiamei has certainly developed her self-confidence and improved her language skills whilst studying at GEALC and her involvement in the sewing group and volunteering at GEALC's events has given her the opportunity to connect and work alongside other students and members of staff in a genuine working environment.
As a migrant, Jiamei has fully embraced Australian life and is a wonderful addition to any community.
Jiamei has always been committed to adult education. In fact, the reason why she has volunteered alongside her learning is so she can learn more. Following an interview with Jiamei she says that her adult education experience in learning English courses, skill programs and volunteering at GEALC has:
"Helped me to improve my English and overcome the fear of communicating with others, be assimilated into the new community and Australian life and to rebuild my self-confidence and enhance my independence".
"My goal is to keep improving my English and learn some up to date computer skills to eventually find work when my twins are older. And I really want to give back to my family's communities. I will try to look for more volunteer jobs or a part time job as a bookkeeper or administration staff."