Jackie is a great role model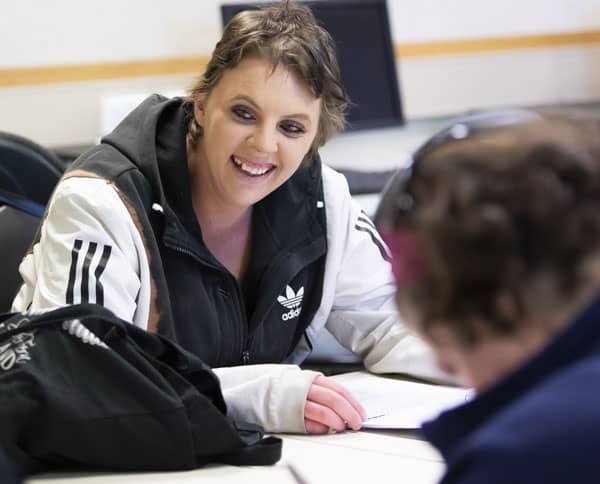 Jackie dropped out of high school when she was a teenager. Now she's thriving in a course called 'Getting There' at The Centre in Wangaratta. 'Getting There' aims to help young people like Jackie get the wrap-around support they need to re-engage in learning and move on to further training or work.
Deciding to return to study as an adult can be incredibly daunting, especially if like Jackie you disconnected from school as a teen. But as a single parent Jackie was determined to be a positive role model for her two children and provide them with financial stability.
She joined the 'Getting There' program in 2019, and has since developed in extraordinary leaps and bounds.
'Getting There' is an engaging and supportive education program that helps participants gain the confidence and skills they need to apply for and gain work, or go onto further education. Graduates of the course obtain a Certificate I and Certificate II in General Education for Adults. 'Getting There' is offered in a flexible learning environment that allows students to apply their existing experience and knowledge to projects that interest and challenge them.
Jackie's teachers have been impressed by her inspiring committment to personal growth – not just in the classroom but in everyday life. Since the start of the course her confidence has increased and she has developed essential skills to prepare herself for further study or work.
Jackie's academic growth has been impressive. She has a flair for connecting and communicating with people from a diverse variety of backgrounds and education levels. Jackie applies what she's learned by assisting other students and has a natural ability in reframing and explaining her knowledge. She excelled in assisting students with disabilities, demonstrating patience and kindness, and working to encourage and inspire other students.
Jackie is incredibly excited to continue studying once she completes her 'Getting There' course at the end of this year. She is keen to explore career pathways in education or disability support where high level communication skills like Jackie's are crucial.
By joining the 'Getting There' program, Jackie has:
learnt new skills to help her excel in further study
expanded her knowledge in her foundation skills of literacy and numeracy
built her career management skills for finding work and navigating a career
developed new confidence and connections
developed her enterprise and core work skills which she will be able to apply across a multitude of courses, jobs and industries.
If you know an outstanding learner why not celebrate their achievements and nominate them for an ALW scholarship.