Marius wants to keep improving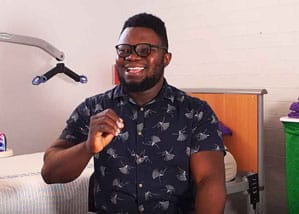 Marius and his sisters moved to Australia from Nigeria a couple of years ago to reunite with their mother after years of separation.  Before civil unrest broke out Marius and his family lived in Sierra Leone. But in 1997 when he was seven years old Marius and his sisters were sent to safety, to live with his father's relatives in Nigeria. Once things settled down they began to look for their mother.
Fifteen years later Marius and his sisters finally found their mother through Facebook; by then Marius was 22.
Marius' mother had fled Sierra Leone in search of a better life, hoping she would find her children or family, but to no avail. Then she moved to Australia. Once Marius found his mother he came to Australia with his sisters and made their way to Coffs Harbour to start a new life.
Marius tried to get work. He was well educated in Nigeria but did not have any concrete evidence of his qualifications. It is culturally important for Marius to support his family, so there was a lot of pressure to find work. The family had no access to Government funding, so employment was a serious concern as his mother was unable to work at that time because she was diagnosed with DVT.
A friend of Marius' suggested that he should think about becoming an Assistant Nurse (AIN). She recommended Coffs Coast Community College because of the support they offer. Marius went to the College to enquire about the Certificate III in Individual Support.
When Marius approached the College, he only had $200. But he was determined to use it to pay for part of his course. The College allowed him to enrol and worked out a payment plan for him. He then got himself a job as a cleaner, and worked through the night to bring a salary home for his family. The long nights cleaning combined with three days a week training was very taxing for him. But Marius successfully completed his training and a work placement, ultimately finding work in aged care.
Marius has found a meaningful career in caring and nursing in the community and even received another offer to work in the disability sector.
Marius has been able to support himself and his family. He has also found meaningful work in his community. But this hasn't stopped him from studying. He wants to keep improving his education.
He went to the college nervous, stressed and not sure he could complete the Certificate III in Individual Support and Disabilities, but through his own efforts and with the support and encouragement of College staff, he has continued improving himself and furthering his career aspirations. Marius has now enrolled at university to become an Occupational Therapist.
If you know an outstanding learner why not celebrate their achievements and nominate them for an ALW scholarship.