Sharing knowledge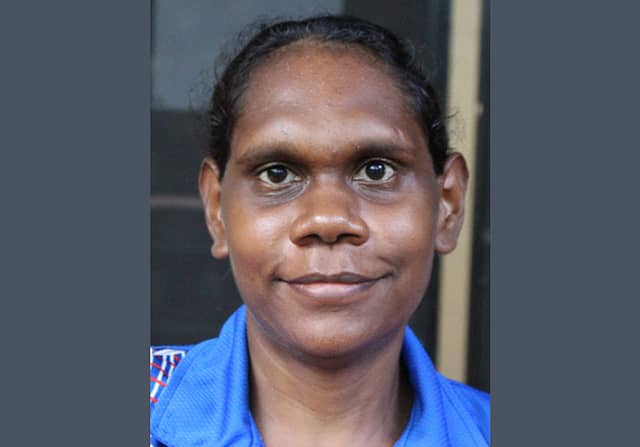 Bamuruŋu has been working at Yirrkala Bilingual School since 2010, completing Year 12 the year prior. Originally spreading her time between the pre-school and the Language Production Centre (the LPC), it quickly became evident that she had a passion for translation and for strengthening the children's Yolŋu Matha language literacy skills. Mentored by long time Yolŋu educator, bilingual advocate and academic, Yalmay Yunupingu, Bamuruŋu has been a collaborator and teacher of the Yolŋu-Matha early years literacy app, and has been part of the team that checks, translates and produces many Yolŋu Matha literacy books and materials as part of her duties at the LPC.
The C-BATE (Community Based Assistant Teacher Education) program in North East Arnhem Land, NT was developed by Yirrkala School and Laynhapuy Homelands School (combined as the Yambirrpa Schools Council). It aims to provide the opportunity for Assistant Teachers and other Yolŋu staff to gain skills and qualifications that will help support bilingual education and remain in their own community whilst working and studying.
Bamuruŋu has been the highest attender of the C-BATE program. She is committed and conscientious when engaging with her studies. The LPC is the heart and soul of both school's bilingual education programs, and its future is dependent on the ongoing work of staff like Bamuruŋu who speak Yolŋu Matha but who also desire to upskill themselves linguistically to create better Yolŋu Matha materials that support bilingual education to it's highest standard. The C-BATE program has given her this opportunity.
Yolŋu Elders, as community leaders and members of the Yambirrpa Schools Council, have requested that the bilingual program represents Yolŋu Matha language varieties accurately when speaking, writing and recording. Bamuruŋu enrolled in a six week micro credential course – Intermediate Yolŋu Languages and Culture through CDU (Charles Darwin University). As a participant of the C-BATE program, she received timetabled tutoring hours every week, obtained help as required for the completion of assessments and was given technical support for her weekly online sessions. She believes the course will help her formalise her understanding of translation techniques and linguistic conventions in both English and Yolŋu Matha.
Bamuruŋu has not missed a study session and does not waste a minute of time getting deep into her translation assessments. She is meticulous in her work and show a growing ability to work independently. She has attended all of her after hours online sessions and made an outstanding contribution to both the course and the other students.
"The contribution Bamuruŋu made to the online sessions in the Intermediate level of learning Yolŋu languages and culture delivered by Charles Darwin University was just tremendous. As an expert in Yolŋu Dhuwaya language, she supported Yolŋu lecturers to demonstrate the great diversity of Yolŋu language varieties; and as a learner of Western linguistics, she performed exceptionally well in understanding how her own language is differently known to English language speakers.
Bamuruŋu is the primary carer for her aging and wheelchair-bound märi (grandmother). She was a quiet, conscientious young woman when she first showed an interest in following in her grandmother's footsteps (her grandmother has an extensive background in translation). She attended her work at the LPC everyday but was quite dependant on the support of her supervisors to guide her and reassure her of the quality of her work.
Since commencing the course, Bamuruŋu has become noticeably more confident delivering the Yolŋu Matha lessons in classrooms, she is more involved and less reticent when discussing translation choices with the LPC team, she understands the important role she has and the impact accurate Yolŋu Matha literacy materials has on language continuity, developing early years literacy, and fidelity of the school's bilingual program.
She has increasingly become a respected member of the LPC and the school community; becoming more self-assured when translating into Yolŋu Matha. She has taken on several projects as well as participating in decision-making regarding projects and processes.
The course was not easy for Bamuruŋu – not only was she translating into Gapapuyŋu for the course assessments, but additionally translating into Dhuwaya; the more commonly spoken Yolŋu Matha language of Yirrkala to ensure her studies were staying relevant to her community. The evening online sessions also meant she was required to ensure her märi was taken care of before heading in to attend online (the internet is not readily available to the households of Yirrkala). But, as she does, Bamuruŋu put one foot in front of the other to achieve outstanding results with her studies, djama and growing respect in her role.
Continuing on with studies is indeed a wish of Bamuruŋu's, for the rest of this year she is wanting to extend on her new skills – she wants to complete some work translating books as teaching resources, as well as develop interactive learning activities for the soon to be launched Dhuwaya App.