Pride in his own abilities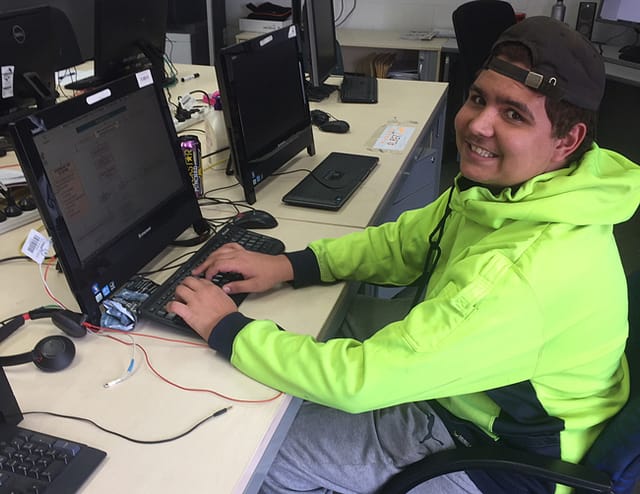 Frank has been working for just over 12 months at The Worldview Foundation as an e-waste technician. The Worldview Foundation is a social enterprise assisting young Aboriginal and Torres Straight Islander men to prepare for and plan, meaningful, long term careers.
As part of the training program, participants are mentored, coached in life skills and enrolled into CIT's Certificate II in Skills for Work and Vocational Pathways FSK20119.
As part of the course, participants study units of competencies to upskill their communication, reading, writing and digital literacy skills to be work-ready.
Prior to commencing the CIT course Frank had only completed his Year 10 Certificate. He had become disengaged from the school system through a combination of non-aligned teaching techniques and a non-supportive, dysfunctional family life.
Growing up, Frank didn't see himself as an intelligent person and had lost confidence in his ability to learn.
In the first session of the CIT course, Frank quickly picked up the basics of the CIT online learning platform. Frank has always been an outgoing person, but his interaction in the class was a step above.
In class as soon as Frank completes his own work, and he is usually the first to complete, he moves around the class assisting other students navigate the online learning platform, uploading their work, and giving positive encouragement.
On many occasions he has explained concepts in multiple ways to assist his peers' understanding.
Frank demonstrates an innate ability to make his peers feel relaxed and non-threatened when he assists them. He kneels beside their desk and speaks to them in a calm, supportive voice. Frank clearly has an aptitude for teaching.
These skills were to prove incredibly useful at an Employment Expo hosted by CIT. Frank was selected to assist a teacher from the 'High Risk' training department in demonstrating aspects of the 'Working at Heights' course to Indigenous students.
Through his work at WorldView and participation in the CIT Certificate II in Skills for Work and Vocational Pathways FSK20119 course Frank has been able to work his confidence and he now understands that he has always been an intelligent person, it was his dysfunctional upbringing and lack of encouragement within his previous learning environment which had failed him.
The units in Foundations Skills have been developed to encourage participants to get acquainted with their learning styles, learning strategies, plans and goals, employability skills as well as their career planning. Participation in the classes enabled Frank to realise his potential and look in a positive way into his future career options.
Frank's transformation has also been observed by his mentor at the WorldView, Phil James, who sees many positive changes in the young men he works with. Phil reports that whenever Frank talks about his current studies and the study path he intends to follow, he stands taller and straighter, he smiles more, his whole demeanour changes. The changes observed in Frank through the gaining of knowledge have been very powerful. Frank now has pride in his intelligence, is inspired to learn and loves helping others learn.
Frank has set himself a goal to complete his Year 11 and 12 equivalency and then to go on to become an LSA and assist teaching other disadvantaged Indigenous children.