Alaya's a fearless learner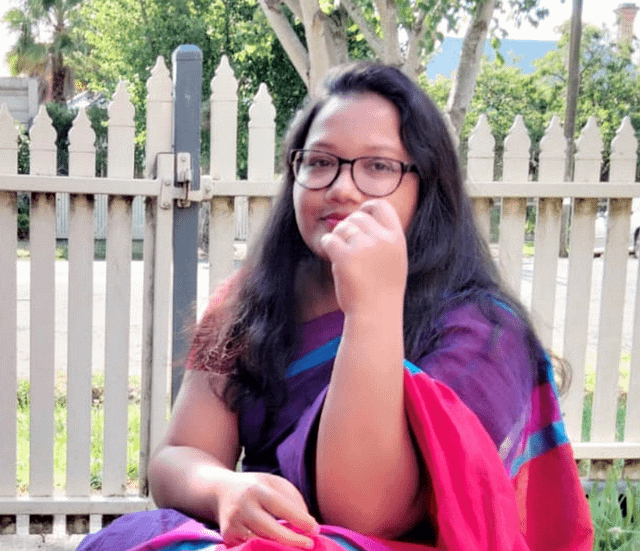 Alaya Begum couldn't have arrived in Australia at a worse time. It was November 2019 when she arrived from Bangladesh and her new country would soon be going into lockdown. Instead of attending English classes in person in her new hometown of Ballarat, she had to take them on Zoom. Trouble was, Alaya had never attended school before, let alone studied online.
But far from being daunted, Alaya has proved herself a fearless learner and her teachers says she approaches English classes with pure joy and optimism.
She also welcomes new experiences and challenges. As well as her migrant English classes at Djerriwarrh Community Education Centre she's taken a 9 week cooking classes at the Ballarat Neighbourhood Centre. Her cooking instructor was so impressed with Alaya's enthusiasm that he recommended her for a job with a cleaning contractor.
Alaya now combines part-time work with study and volunteering. She works at Myer as a part-time cleaner, continues to attend English classes and volunteers at the Ballarat Neighbourhood Centre where she helps to run a community lunch which serves over 70 locals a week.
Her English speaking and listening skills have developed quickly but reading and writing in English is still a challenge. So Alaya often visits the library to find new reading material and works with a 1:1 tutor to keep improving her English.
Alaya's confidence is growing and although she needs to consolidate her English skills before doing further studies, she hopes to undertake a Traineeship in Childcare. Alaya's teacher says:
"Through adult education Alaya has found community in Ballarat. She's also happily and confidently engaged with her daughter's learning and takes a lot of interest in her schooling. It's wonderful to see her modelling lifelong learning to her young daughter. It's also given her the opportunity for leadership in her classroom. She's often the first to offer assistance and support to other students and the teacher."